Automotive Careers in Paris, TX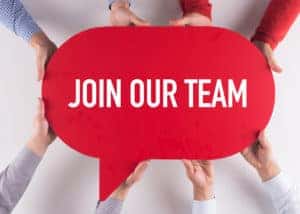 Find Your Dream Job with Jay Hodge Dodge Chrysler Jeep Ram of Paris
If you're interested in pursuing an automotive career, you couldn't have picked a better time to get into such an exciting field! At Jay Hodge Dodge Chrysler Jeep Ram of Paris, we're proud to offer exciting opportunities in a rewarding industry, an uplifting work environment, and competitive pay. Whether you're a seasoned automotive pro or a newcomer to the industry, we'd love to hear from you.
We're always welcoming applications at our dealership from go-getter individuals looking for a challenging yet fun job with a big payoff. Our team is a well-oiled machine made up of many different team members who all do their part at our dealership. We offer career opportunities that match a variety of skillsets, so no matter what you bring to the table, we encourage you to apply. Maybe you're a people person who'd make a great fit on our sales team, or a numbers whiz who'd be a real asset to our finance department. Or, maybe you're most comfortable under the hood of a vehicle diagnosing and fixing problems to keep people safe on the road – our service department has a spot for you.
Why Work in the Automotive Industry?
Jay Hodge Dodge Chrysler Jeep Ram of Paris has been a staple of the Paris auto community for a long time, and we're proud to have earned a reputation for offering outstanding service from the sales floor to the auto lift. Over the years, we've seen first-hand that the automotive industry is always abuzz, because people need cars, and those cars need to be financed and serviced. When you join our team, you'll enjoy a job security that many other fields only wish they could see!
In addition to offering great benefits and competitive pay, we're also proud to have a supportive work environment full of friendly folks who want the best for each other. We acknowledge a job well done, and offer resources to continue your education in the automotive segment and grow in your career. We're proud to say we love where we work, and we think you'll love it, too.
Get Hired at Jay Hodge Dodge Chrysler Jeep Ram of Paris
If you're ready to kickstart your career in the automotive industry, we encourage you to explore our current job openings and send in your application. If the position you're most interested in isn't open right now, don't worry. Our dealership is always growing, and we love to hear from motivated individuals with talent and ambition. Go ahead and submit your application today. We look forward to hearing from you soon!